More people in New York and New Jersey are having solar systems installed on their roof than ever before. Is solar just a passing fad, or does it really live up to all this hype? Take a look at the many advantages of solar energy and decide for yourself.
Save money from day one
As a homeowner in New York or New Jersey, you're probably fed up with high electric bills. Burning coal to produce electricity is so 20th century. What you need is something renewable with on-site production capabilities. Water and wind energy aren't exactly viable for individual residential use, but solar is perfect.
With financing options such as solar leasing, solar loans and outright cash purchasing, you choose how your solar system is installed. With leasing and loans, you can go solar with no money down and start saving from day one.
Lock in savings for decades to come
As one of the cheapest states in the country to go solar, New York is a great place to live if you want a quick return on your solar energy investment.
On average, New York residents save about $130 per month after switching to solar. That's a savings of more than $1,500 per year!
This means, even if you decide to purchase your solar panels outright, the payback period for New York and New Jersey residents averages about eight years. After that, the money you save by relying on solar energy goes right back in your pocket. Since solar panels last well over two decades, the investment simply makes sense.
Take advantage of incentives
As if the payback period wasn't short enough without tax incentives, you can save even more with federal tax credits available on solar installations through the end of 2016. Existing homes, new construction projects, principle residences and secondary homes all qualify for a 30% tax credit with no upper limit.
In addition to federal benefits, New York State also offers tax incentives to encourage residents and businesses to install solar panel systems. These incentives include:
Income tax credit for 25 percent of the system's total cost (capped at $5,000).
Exemption from state sales tax on the purchase of solar panels.
Fifteen-year real property tax exemption to ensure property taxes don't go up even though home value increases with a solar installation.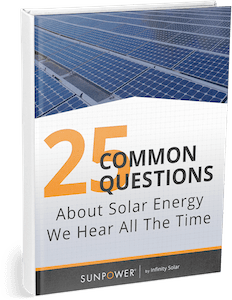 25 Common Questions About Solar Energy We Hear All The Time
Using solar panels for energy is much different than getting electricity from the grid. Download this eBook to help you make a more informed decision.
Increase resale value
You heard right – solar panels are proven to increase home value because they lower electricity costs. This makes your home more attractive on the market, allowing you to sell it for more should you ever decide to move.
In a 2011 study of California homes with solar panels installed between 2001 and 2009, the average home sold for $5.50 more per watt. For a home with a 3,100-watt solar system – the average size in the study – the selling price was $17,000 more than comparable homes without solar panels installed. In many cases, this was comparable to the homeowners' original solar investment.
While your home's market value is sure to increase similarly to the homes in this California study, New York State tax incentives ensure you don't end up paying higher property taxes after installing solar.
Enjoy a secure investment with guaranteed performance
To many people, the word "investment" is synonymous with "risk." This isn't the case with solar panels. One of the most significant advantages of solar energy is that the investment is guaranteed to be successful. With a 25-year-warranty, your investment is protected should there be any underperforming panels.
Industry standards ensure 80% retained performance even after a quarter-century in use. Of course, the real lifespan of your PV system is likely to last well beyond the warranty period. Expect good performance from your panels for a total of 30 to 40 years.
Advance energy independence
While the primary advantages of solar energy are financial, the environmental and economic benefits can't be overstated.
Every homeowner who switches to solar offsets about 5,000 lbs. of carbon dioxide every year, equivalent to a car driving 5,000 miles.
The switch also reduces US dependence on foreign oil, which can only have positive ramifications in terms of our economy and national security. With so many benefits of solar, it's clearly a step in the right direction for your personal finances, the environment, economics and beyond.