As a business owner, you know how difficult it can be to manage expenses. With utility costs constantly rising in New York and New Jersey, many businesses have turned to commercial solar panel installation to help reduce their electric bill each month. You too can fight back against rising energy costs and possibly add to your business profits by switching to solar energy.
An investment that pays for itself
You may have concerns over the upfront cost of commercial solar panel installation. Fortunately, you can take advantage of rebates from the government and local utilities, as well as the Business Energy Tax Credit, which allows you to deduct this credit directly from your business's income taxes. Once your system is up and running, your return on investment will quickly add up by taking advantage of deducting a yearly depreciation expense from your taxes for your system.
Let's not forget the main reason many business owners like you are making the switch to solar energy – reduced utility bills. Switching to solar energy means no more surprise rate increases, thus protecting your bottom line from the volatility of energy costs. This allows you to have a better picture of your yearly expenses for financial planning purposes.
After installation, there are minimal costs associated with maintaining your solar power system moving forward. The systems have very few moving parts and most solar panels outlast the warranty that keeps you and your business protected from any performance problems.
The added bonus to switching to solar is that the power you do not use can be sold back to your local electric company. This provides an additional revenue stream that is pure profit once the costs of your commercial solar panel installation have been paid off.
Upfront Costs Reduced
50%
Equipment & Installation Cost Reduced
30%
Systems That Last At Least 30 Years
95%
Systems Covered Under A 25-Year-Warranty
100%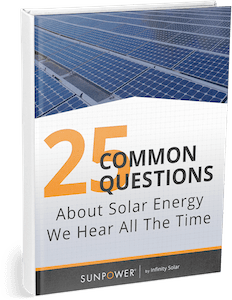 25 Common Questions About Solar Energy We Hear All The Time
Using solar panels for energy is much different than getting electricity from the grid. Download this eBook to help you make a more informed decision.
Good for business. Good for the environment.
Switching to solar energy not only reduces your energy costs, but it's good for your business's reputation in New York and New Jersey as well. It shows your customers and community that you are doing something good for the environment by utilizing renewable energy, which benefits everyone through less pollution and reliance on fossil fuels.
Commercial solar panel installation in New York and New Jersey
SunPower® by Infinity Solar is located in Pearl River, NY and has been installing solar panels for businesses in Rockland County, Orange County and Westchester County for many years. While these are our primary service areas, we've also worked on many solar panel installations in northern New Jersey, including Bergen County and Passaic County, and even New York City.